How a New Boiler adds Value to your Home
FreeHeating Blog - 8th April 2019
This may surprise you, but having a new boiler installed adds more value to your home than any other improvement you can make. This was discovered as a result of research carried out by the comparison website GoCompare and Henry Prior, a property expert. As Henry Prior said: "Improving the green credentials of a house usually pays – a new boiler, insulation or energy saving measures along with security improvements will usually pay off but some additions like solar panels will be hard to get a payback on immediately."
There are several reasons why a new boiler adds so much value to your property and is very attractive to potential buyers:
Energy Bill Savings
The latest A rated boilers are far more energy efficient than older models, and also if you have had your existing boiler for a number of years then its efficiency will have decreased with age. So having a new boiler installed means the new owner can benefit from lower energy bills (as much as £305 a year as estimated by the Energy Saving Trust).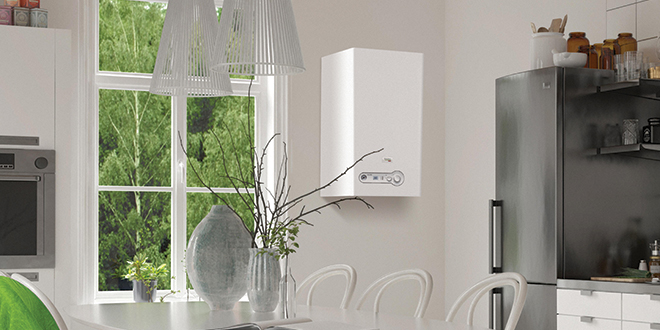 Peace of Mind
As quality new boilers come with a 5, 7 or sometimes even a 10 year warranty, the new owner of your home will not have to worry about expensive repair bills should the need to call out an engineer arise. Imagine moving into a new home which has an old (and probably unreliable) boiler; this would cause undue stress as the boiler could break-down at any time.
New Boilers are Compatible with Mod Cons
The latest modern boilers are usually compatible with smart thermostats and are able to be remotely controlled using an app on a smart phone or tablet etc. This means that the new owner can monitor and control their heating from anywhere in the world. When on the way home, they can switch the heating on so they can return to a nice cosy warm house. They can also delay the automated timer from work or if they have been held up elsewhere, thus avoiding heating an empty home and wasting energy.
The luxury increases further, as if you also install smart TRVs (Thermostatic Radiator Valves) then these can adjust the temperature of each individual room in your home. Maybe you'd like the bathroom warmer than the bedroom? These extra features can be very attractive to prospective buyers.
So if you think your home could benefit from a new boiler, complete our main enquiry form. Submit your details and see if you are eligible for a UK heating grant.