Top 10 Ways to Cut Your Energy Bills This Year
FreeHeating Blog - 1st March 2019
A common problem faced by many UK homeowners currently is the cost of rising energy bills. Recent reports have highlighted that some households are going without heating, and even food, to be able to afford their increasing energy bills. However, there are more cost-effective ways to save money and tackle rising costs by following the top 10 ways to cut your energy bills this year:
1. Have your home insulated
Cost: Free if you receive a qualifying benefit. Savings: £310 per year for Loft and Cavity Wall Insulation
Loft Insulation and Room in Roof Insulation remain one of the most energy efficient ways of keeping your home warm. They will prevent up to 25% of heat being lost through the roof and will significantly lower energy bills by up to £175 per year.
If your home was built after 1924, you may also be able to get Cavity Wall Insulation which will help to keep your home warm and save you money. Cavity Wall Insulation will prevent up to 35% of heat being lost through your home's walls and save you up to £135 per year on your energy bills.
There are also grants available to all UK homeowners and private tenants in receipt of certain benefits, which can cover up to 100% of the cost and don't have to be repaid.
2. Compare energy providers
Cost: Free. Savings: up to £370 per year
Are you with the best energy provider and on the correct tariff for your energy usage? You can compare energy providers online in less than five minutes and you may find that you can make a saving of up to £370.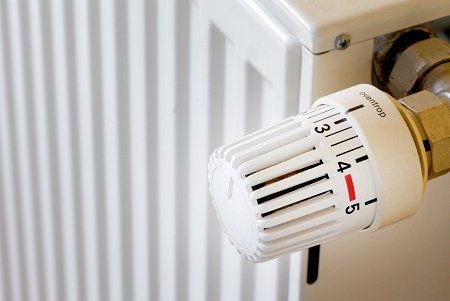 3. Turn down your thermostats
Cost: Free. Savings: £60 per year
Turning down the thermostat on your central heating by one or two degrees is a quick and easy way to cut your energy bills. According to the Energy Saving Trust, reducing your room temperature by one degree could see a 10% reduction in your energy bills. This will typically work out at around £60 per year.
If your water is too hot, you should also set your cylinder thermostat on your boiler to 60C/140F. If your central heating system can be controlled by a timer, setting your heating and hot water to come on only when required, rather than all the time, is another way to save energy and money.
4. Turn lights and appliances off
Cost: Free. Savings: £45 per year
Leaving your lights on or appliances, such as laptops and mobile phones, unnecessarily on standby or charge is a certain way to waste energy and money. Make sure that you turn off the lights when you leave a room and switch appliances off completely when not in use.
5. Insulate your tank and pipes
Cost: £55. Savings: £45 per year
As well as installing home insulation, there is insulation available for your home's water tank and pipes. If your hot water cylinder has a British Standard insulation jacket, heat loss will be cut by around 75%. This equates to a saving of around £45 per year on your energy bills.
6. Use energy saving light bulbs
Cost: £1 – £5. Savings: £8 per bulb per year
Replacing all standard light bulbs with energy saving light bulbs is another low-cost money-saving option. An energy saving light bulb generally costs between £1 and £5 and can last up to 10 times longer than ordinary bulbs, saving you around £40 over its usual 5 year lifetime.
7. Close your curtains
Cost: Free. Savings: £25 per year
Closing your curtains at night will help to prevent heat from escaping through the windows and subsequently will keep your home warmer. You should also check for any draughts around doors, which can be prevented with a draught excluder that typically costs no more than £30.
8. Only boil what you need
Cost: Free. Savings: £10 per year
If you need to use boiling water, for example if you are making a cup of tea, don't boil more than you need. Boiling a full kettle, when only one cup of water is needed, will take longer and use up more energy to bring the water to the boil.
9. Fill your white goods before using
Cost: Free. Savings: £10 per year
Where possible, you should always try to fill your washing machine, tumble dryer, and dishwasher before you set them off. This is because one full load uses less energy and costs less than two half loads.
10. Fix leaking taps
Cost: £40-£50. Savings: £10 per year
A leaking hot water tap wastes energy and in one week will waste enough hot water to fill half a bath. Therefore, make sure that if you have any leaking taps that they are fixed and fully turned off.
Please note: The figures quoted for costs and savings are estimates.
For further details Contact Us